YLANG YLANG (Flowers) Canaga ordorata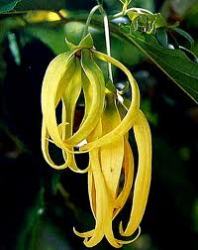 Ylang Ylang Essential Oil has a sweet, exotic slightly spicy aroma and is slightly yellow in colour
This extremely fragrant essential oil has a calming effect on the mind and body and is used in cases of frigidity and impotence. It has a wonderfully balancing and stimulating effect on the skin, to correct sebum production and is also used to stimulate hair growth.
Ylang Ylang oil has a euphoric and sedative effect on the nervous system and helps with anxiety, tension, shock, fear and panic while the aphrodisiac qualities are useful for impotence and frigidity.
It is particularly useful with rapid breathing and rapid heartbeat, it can also help with reducing high blood pressure and useful for intestinal infections.
Ylang Ylang has a balancing and stimulating effect on the skin and is beneficial for combination skin, irritated skin and acne by balancing the secretion of sebum; it can also be used as a scalp tonic to stimulate hair growth in both dry and greasy scalps promotes more luxurious hair growth.
This essential oil has sensual and soothing and deeply relaxing properties that uplift the spirit and promote a sense of self confidence and ease.
Ylang Ylang essential oil is known to encourage healthy, shiny hair and is ideal for both oily and dry skin.
In aromatherapy Ylang Ylang is used for its sedative, antidepressant, euphoric and aphrodisiac properties.
It is warming, comforting and balancing, helps the nervous and circulatory systems and can help to reduce high blood pressure and heart palpitations. It also controls the production of sebum and can be generally used to help balance and regulate body functions.
Ylang Ylang is valuable in treating depression, anxiety, nervous tension, stress-related insomnia, shock, fear and anger. Its erotic fragrance can also help to release sexual inhibitions.
Ylang Ylang can assist with problems such as high blood pressure, rapid breathing and heartbeat, nervous conditions, and sexual problems.
Ylang-ylang oil blends well with
Although most essential oils blend well together, ylang-ylang oil blends particularly well with bergamot, chamomile roman, clary sage, geranium  lavender, lemon patchouli and sandalwood.
Therapeutic properties
The therapeutic properties of ylang-ylang oil are antidepressant, antiseborrhoeic, antiseptic, aphrodisiac, hypotensive, nervine and sedative.
Therapeutic properties explained
Chemical composition
The main chemical components are linalool, geranyl acetate, caryophyllene, p-cresyl methyl ether, methyl benzoate, benzyl acetate, benzyl benzoate and other sesquiterpenes.
Extraction
Our ylang Ylang Essential Oil comes from Madagascar and is extracted from the freshly picked flowers by steam distillation.
Precautions
It is classed as a non-toxic, non-irritant and non-sensitizing oil, yet could cause sensitivity and excessive use of it can lead to headaches and nausea.