Wheatgerm Oil- Triticum vulgare.

 Wheatgerm oil is extracted from the nutrient rich germ which is a by–product of the flour milling process. As with our Avocado Oil our cold pressed Wheatgerm Oil is refined to remove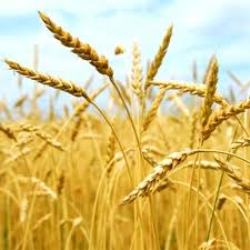 the non oil elements from the pulped wheatgerm. This mixture of non oil elements contains micro bacterial activity has been known to cause problems when applies to the skin. The refining process does not detract from the aromatherapy properties of the oil; a side benefit of the process is the removal of the unpleasant odour.
Wheatgerm carrier oil contains Vitamins A, B1, B2, B3, B6 it is very rich in vitamin E and other tocopherals plus fatty acids, proteins, phosphorous, iron, zinc, potassium and sulphur.
The high level of vitamin E (which is a natural anti-oxidant) in Wheatgerm reduces the effect of free radicals, slowing down the ageing process and reducing the appearance of wrinkles. Apart from repairing damaged tissues this oil also takes great care of your skin's health and keeps it nourished and youthful.
When it is applied topically on to the skin it helps promote the formation of new cells and is a great emollient. It is good for scars and stretch marks, dry skin, psoriasis and eczema and also used to help relieve the symptoms of dermatitis.
Wheatgerm Carrier oil stimulates the rate of blood flow in your body which in turn gives various other health benefits.
Such is the content of Vitamin E in Wheatgerm that it acts as a natural preservative to other oils.
Try mixing Wheatgerm with other lighter carrier oils such as Sweet Almond oil for a smooth blend as Wheatgerm may be too sticky when used on its own!
Fatty Acids in Wheatgerm Oil
Palmitic Acid 12.5 %, Palmitoleic Acid 0.21 %, Stearic Acid 2.5 %, Oleic Acid  27.3 %, Linoleic Acid 53.7 %, Linolenic Acid  3 %,, Arachidic Acid 1 %, Behenic Acid 0.1 %, Gadoleic Acid 0.2 %
Precautions
Warning: This oil may cause sensitization in some individuals. Do NOT use if you are allergic to wheat or gluten.