TURMERIC (Rhizomes) Curcuma longa 

 Turmeric Essential Oil has a warm spicy, slightly woody arom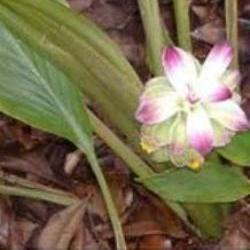 a. It is an excellent natural antibiotic, while at the same time it strengthens digestion and helps improve intestinal flora.
It is a good anti-bacterial for chronically weak or ill. It not only helps purify the blood, but also warms it and stimulates formation of new blood tissue.
Turmeric promotes proper metabolism in the body, correcting both excesses and deficiencies. It is a good blood purifier, and works as a tonic to aid digestion and relieve congestion.
It has a soothing action on respiratory ailments such as cough and asthma. It also is anti-arthritic and acts as a natural anti-bacterial.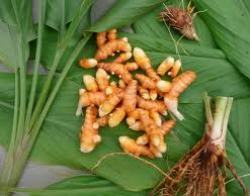 The oil is also good for colds, flu sinusitis, hay fever, bronchitis, earache, food allergies, laxative, fungal infections such as Candida, canker sores, glandular swelling, gum diseases, morning sickness hypoglycaemia and ulcers.
This oil is useful in aromatherapy for relaxing; balancing and stimulating, it relieves physical and mental depression, especially severe depression.
Turmeric Essential Oil is used to stimulate the uterus, digestive, respiratory and circulatory systems, normalizes energy flow and lowers cholesterol levels. It helps in anorexia, flatulence, painful & sluggish digestion, liver congestion,stimulates gall bladder.
It helps to increase circulation to the joints and muscles, relieving arthritis, muscle aches & pains as well as rheumatism pains. It is used externally for injuries and minor wound management, sores, ringworm, as well as athletes' foot.
Turmeric Essential oil is useful for skin and macular problems, it is helpful to the reproductive system, it also increases sexual desire.
Turmeric Oil blends well with
Although essential oils normally blend well together, Turmeric oil blends particularly well with Cinnamon,  Clary Sage, Clove Bud, Ginger and Nutmeg.
Therapeutic properties
The therapeutic properties of Turmeric Essential Oil are Analgesic, anti-arthritic, anti-inflammatory, bactericidal, cholagogue, digestive, diuretic, hypotensive, and insecticidal, laxative, stimulant.
Therapeutic properties explained
Chemical composition
The main chemical components are phellendrene 4.39%,  limonene 2.29%,  zingiberene 1.21%,  ar-curumene 1.43%, ar-ttubermerone 21.81%, a-tumerone 25.33%, B-turmerone 16.74%, 1,8-cineoJe 1.64%.
Extraction
Our Turmeric Essential Oil originates from Spain and is extracted from the "cured" rhizomes by steam distillation and originates from India.
Precautions
This oil is a skin-irritant and should only be used in low dilutions by experiences Aromatherapists. Do not use during pregnancy.