TANGERINE: (Rind of the fruit) Citrus reticulata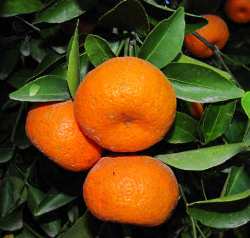 Tangerine Essential Oil has a sweet floral citrus aroma similar to Mandarin but slightly spicier it is a yellowy orange colour.
This zesty Essential Oil has wonderful properties to help relieve stress and digestive problems, but is primarily used to increase circulation to the skin, reducing fluid retention and to help prevent stretch marks.
Tangerine oil is soothing to the nervous system and has a tonic effect on the digestive system, while helping flatulence, diarrhoea and constipation.
It is also useful in the treatment of respiratory problems like asthma, chest congestion, dry cough and breathing problems.
In skin care Tangerine has antiseptic properties which make it useful in helping problem skin conditions, it also helps with stretch marks, increasing circulation and reducing fluid retention. This oil's antiseptic properties can help cure the swelling and reddening of wounds. If applied to the affected area immediately after a wound is sustained, the oil can help prevent any kind of swelling in the wounded area.
It can be topically applied to treat stiff and painful joints. It is also useful for treating severe cramps in the muscles acute pain, and immobility; it is excellent for a neuromuscular massage.
The oil has a very calming and soothing effect. It can help treat many nervous afflictions. It can help relaxation and can also improve the mood.
Some of the components of the oil can help regenerate cells by stimulating cell division. It also helps improve the process of recycling cellular material in the body. This property of the oil also helps treat any kind of wear and tear sustained during exercise, sports, or accidents.
Tangerine Essential Oil blends well with
Although most essential oils blend well with other oils, Tangerine oil blends particularly well with Bergamot, Cinnamon, Clary Sage, Clove Bud, Frankincense, Lavender, Neroli and Nutmeg.
Therapeutic properties
The therapeutic properties of tangerine oil are antiseptic, antispasmodic, cytophylactic, depurative, sedative, stomachic and tonic.
Therapeutic properties explained
Chemical composition
The main chemical components of tangerine oil are a-thujone, a-pinene, camphene, sabinene, b-pinene, myrcene, limonene, y-terpinolene, linalool, citronellal, terpineol-4-ol, nerol and geranial.
Extraction
Unicorn Aromatherapy's Tangerine Essential Oil is extracted from the peel by cold expression and comes from Brazil.
Precautions
It is a non-toxic, non-irritant and non-sensitizing oil, but some phototoxicity has been reported and it would be best to not expose the skin to sunlight after a treatment.