TAGETES (Leaves, Stalks and Flowers) Tagetes minuta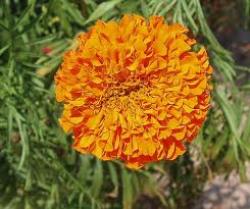 Tagetes Essential Oil has a wild, sweet, fruity almost citrus-like aroma and is yellow to reddish-amber in colour. It is of medium viscosity that can turn thick and even gel-like if exposed to the air for a long time.
Although very few people buy this oil for the fragrance, this oil has been employed historically as an anti-fungal. It is still considered a powerful topical adjunct in treatment of fungal infections and foot and skin complaints such as bunions, calluses, corns and athlete's foot. Oil of Tagetes is thought to have a positive effect on skin infections and small weeping wounds.
Tagetes essential oil has been used for chest infections, coughs and catarrh, dilating the bronchi, facilitating the flow of mucus and dislodging congestion, catarrh depositions, and easing phlegm. It has also been used as a treatment for whooping cough, the common cold, colic, mumps, sore eyes and mastitis.
Tagetes boosts the respiratory system by dilating the bronchi and facilitating decongestion, being relaxant in nature, this oil relaxes any type of spasm in the body and gives relief from spasmodic cough, diarrhoea, cramps, convulsions etc.
The sedative property of Tagetes Essential oil is well known and has been in use for a long time, it sedates inflammations and irritations in the digestive system, nervous system, excretory system.
Tagetes is good for use in helping with anxiety, stress, depression, anger, panic and other emotional and psychological hyper reactions.
Tagetes is also helpful in relieving headaches, fever, and abdominal pain, reducing blood pressure, inflammation, and calming nervous tension, it is uplifting in cases of mild depression.
Both the plant and oil are used for pest control and as an insect repellent,
Tagetes Essential Oil blends well with
Although essential oils normally blend well together, Tagetes oil blends particularly well with Bergamot, Clary Sage, Jasmine, Lavender, Lemon, Myrrh and Tangerine.
Therapeutic properties
The therapeutic properties of Tagetes oil are anti-infectious, anti-microbial, antibiotic, anti-spasmodic, anti-parasitic, antiseptic, insecticide and sedative.
Therapeutic properties explained
Chemical composition
The main chemical components are tagetone, limonene, valeric acid and ocimene etc
Extraction
Our Tagetes Essential Oil is extracted from the leaves, stalks and flowers, picked when the seeds are just starting to form and originates from India.
Precautions
Tagetes essential Oil is a very powerful oil and should be used sparingly and should be avoided during pregnancy. Not to be used on a sensitive skin and may cause photosensitivity. Cases of dermatitis have been reported.