SPEARMINT (Flowering plant) Mentha viridis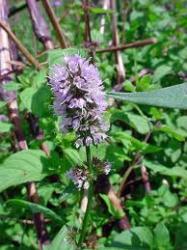 Spearmint Essential Oil has a warm, spicy-herbaceous, mint odour and is pale yellow to greenish in colour.
Although it has very many properties in common with peppermint oil, it contains only small amounts of menthol and is far less harsh on the skin and ideal for use in children.
When your mind is tired and in need of stimulating and upliftment, then Spearmint Essential Oil is the one for you.
Spearmint Essential Oil has great benefits on the digestive system and relieves irritable Bowel Syndrome flatulence, constipation, vomiting and nausea.
Spearmint oil relieves mental fatigue, improves mental clarity, memory and alertness furthermore, it helps with headaches, migraines, nervous strain, fatigue and stress.
This oil is good for the respiratory tract; helping with asthma, bronchitis, catarrh and sinusitis.
For female health it can help to stem the flow of heavy periods and leucorrhoea and releases urine retention.
Spearmint can be effective in the treatment of skin problems, on the skin it can relieve the itching of pruritus and helps with acne, dermatitis, congested skin and sore gums.
This oils ability to repel insects is simply remarkable. Its popularity as an insect repellent is increasing. A diluted version of this oil can be applied the skin, to prevent insects such as mosquitoes from biting.
Spearmint oil blends well with
Although most essential oils blend well together, Spearmint Essential Oil blends particularly well with Basil, Cedarwood, Cypress, Eucalyptus, Jasmine, Lavender, Lavandin, Lemon, Lime, Mandarin, Rosemary, Tea Tree and Thyme.
Therapeutic properties
The therapeutic properties of spearmint oil are antiseptic, antispasmodic, carminative, cephalic, emmenagogue, insecticide, restorative and stimulant.
Therapeutic properties explained
Chemical composition
The main chemical components of spearmint oil are a-pinene, b-pinene, carvone, 1,8-cineole, linalool, limonene, myrcene, caryophyllene and menthol (0.5% compared to the 40% in peppermint)
Extraction
Unicorn Aromatherapy's Spearmint Essential Oil il is extracted by steam distilling the flowering tops and originated from China.
Precautions
Spearmint Essential Oil is non toxic and non-irritating.