Sesame Seed- Sesamum indicum.

 Sesame Oil offers a blissfully relaxing and comforting massage treatment, works wonders in relieving tiredness of the body. It is known to possess soothing and tranquilizing properties.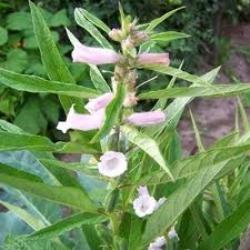 It is beneficial in alleviating tension and stress, thus, Sesame oil application protects the body from various disorders associated with nervous system. It also keeps away the problem of insomnia and mental fatigue and is an energy rejuvenator; hence it is the best remedy for the tired and aching body.
It is rich in vitamins E and B, and in minerals such as calcium, magnesium, phosphorus and potassium which help to rejuvenate and protect the skin. This oil has great moisturizing, soothing and emollient qualities it is good for all skin types and although a thick oil it is good for mature skin. It aids in conditions such as Eczema and Psoriasis and arthritis and assists in reducing scar tissue. In folk medicine it has also been used to help fade blemishes.
Sesame has been used as a healing oil for thousands of years. It is traditionally used for Ayurvedic massage. According to Ayurveda, Sesame Oil is especially useful for nourishing and detoxifying and for ailments associated with the vata type, such as anxiety, poor circulation, constipation, bloating, and excessive dryness.
Sesame oil has some sun screening properties but should not be used as a sun screen preparation, unless in an emergency.
Sesame oil is known for its healing power. The presence of high levels of polyunsaturated fatty acids in the oil is of great value in controlling high blood pressure. It possesses Vitamin E and thus serves as a great antioxidant, which in turn helps to lower the cholesterol level.  It is naturally antibacterial for common skin pathogens, such as staphylococcus and streptococcus as well as common skin fungi, such as athlete's foot fungus. It is naturally antiviral. It is a natural anti inflammatory agent.
It has also proved to be effective in treating toothache and problem of gums.
Fatty acids found in Sesame Oil
Palmitic Acid 7.0 – 12.0 %, Palmitoleic Acid trace to 0.5 %, Stearic Acid 3.5 – 6.0 %, Oleic Acid 35.0 – 50.0 %, Linoleic Acid 35.0 –  50.0 %, Linolenic trace to 1.0 %, Eicosenoic Acid 0.0 – 0.5 %, %
Precautions
None recorded