Rosemary Hydrosol Rosmarinus officinalis
Rosemary hydrosol called Rosemary water is a by-product of Rosemary oil distillation and contains the water soluble constituents of the fresh flowers of the Rosemary plant. It is a robust Hydrolat making it ideal for use in bath body and skincare products.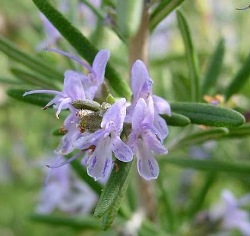 Containing antioxidants as well as natural camphor, it has rich antibacterial properties and is used as a general tonic and stimulant.
The uplifting camphorous scent of Rosemary water makes it ideal to enhance the memory and before a time of intense concentration, its stimulatory nature helps encourage healthy blood flow in the skin surface.
Rosemary water has some antibacterial properties, contains antioxidants and natural camphor. Rosemary water has been used as a general tonic and stimulant and is used for lack of energy, depression
Rosemary water is an effective muscle relaxant which acts through the sympathetic nervous system and helps relieve muscular aches and pains and rheumatic pain.
Rosemary floral water purifies and tones greasy and acne-prone skin, it is slightly astringent and is therefore useful in toning slightly oily complexions.
Has a favourable action on burns and wounds; stimulates the scalp will encourage blood flow to the skin and can help with a variety of scalp related ailments. It fortifies and adds gloss to the hair.
Safety note:-  Rosemary Hydrosol is contra indicated in pregnancy and should not be used if suffering from high blood pressure

If applied to the face hydrolats should be diluted to 50% strength with purified water as they are dehydrating and will dry out the skin if used at full strength.