Rosehip Oil- Rosa mosqueta
 


Rosehip oil is a toxin-free and worry-free approach to revitalising dry and dull skin and visibly improving your skin's quality and appearance. Used as a carrier oil or directly on the skin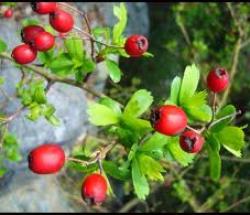 this unique oil is a powerhouse of nutrients and essential fatty acids that play a vital role in the regeneration process of our skin cells and the repair of damaged tissues.
Rosehip oil is an ultra-fine oil that absorbs instantly allowing the skin to breathe as it works, helping restore your skins healthy glow.
It can be used on any skin type, sensitive, dry, oily or mature skin; it helps relieve symptoms of eczema and dermatitis. It is high in Gamma-linolenic acid (GLA); it helps reduce the signs of ageing, and smooths wrinkles, especially the fine lines around the eyes (crows feet) and lines around the mouth. It may assist healing of minor burns and sunburn helping skin tissue regeneration and increase skin elasticity.
It has some great rejuvenating properties and is helpful with fighting the drying effects of the sun and climate on the skin as well as assisting with attenuating both accidental and surgical scars. Due to the high levels of the fatty acids – linoleic (47.4%) and linolenic (33%) – it helps the skin to heal and speeds up regeneration, while preventing the formation of thick scar and is helpful in healing burns, scars and stretch marks and eczema.
It is a good source of vitamin C, which is essential in the formation and synthesis of collagen in the skin, without which your skin would not only age prematurely, but will have terrible tone and the elasticity and suppleness would also be impaired.
It acts as a fixative, while also having astringent and diuretic properties and has exceptional emollient properties, while also acting as an antioxidant.
Besides the non-saturated fatty acids, the presence of carotenoids, flavonoids and trans-retinoic acid has also been detected in this oil and these could be responsible for some of the pharmacological and therapeutic properties of rose hip oil.
It penetrates the skins very quickly, making it a good moisturizer and with all the other positive properties, and its tissue regeneration action, it is easy to understand why it is also described as the "oil of youth".
Fatty acids found in Rosehip Oil
Myristic Acid 0.0 -0.3 %, Palmitic Acid 3.4 – 4.4 %, Palmitoleic Acid 0.1 – 0.18 %, Stearic Acid 1.5 -2.5 %, Oleic Acid 14.0 – 16.0 %, Linoleic Acid 43.0 – 46.0 %, Linolenic Acid 31.0 -34.0 %, Arachidic Acid 0.1 – 0.9 %, Gadoleic Acid 0.0 – 0.5 %, Eicosenoic Acid 0.0 – 0.5 %, Behenic Acid 0.1 -0.4 %
Other constituents include boron, capric acid, tannins, catechin-tannins, citric acid, essential oil, epicatechin, flavonoids, gallocatechin, invert sugars, isoquercitrin, kaempferol-3-glucoside, leucoanthocyanins, linoleic acid, linolenic acid, lycopene, magnesium, malic acid, pectin, protein, rubidium, rubixanthin, succinic acid, sucrose, alpha-tocopherol (vitamin E), vanillin, xanthophyll and zeaxanthin.
Precautions
There have been some reports that it can aggravate acne.