PINE NEEDLE (Pine needles) Pinus sylvestris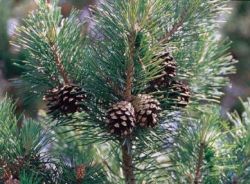 Pine oil has a fresh forest smell, is pale yellow in colour, is an excellent air freshener and disinfectant and is useful for cleaning and deodorising rooms.
Even though it can be used in cystitis, hepatitis and prostate problems, as well as to improve circulation and to relieve rheumatism, gout, sciatica and arthritis, it should be done so with care due to the sensitizing nature of this oil.
Pine Needle oil is most useful to relieve mental, physical and sexual fatigue, while having a cleansing and invigorating effect on an area and is great for vapour therapy in a sick room as it promotes healing.
It can be used for cuts and sores, scabies and lice and for excessive perspiration, while its anti inflammatory properties help with rheumatism, arthritis, gout, muscular aches and pains and it can stimulate circulation.
Furthermore it can help in cases of bronchitis, asthma, catarrh, coughs, laryngitis, colds and flu. It eases breathlessness and sinusitis.
As a general kidney cleanser, it is effective with cystitis, prostate problems and urinary infections and can also help with nervous exhaustion, neuralgia and mental fatigue.
Pine oil may also help relieve congestion and acts as an expectorant, aiding the body to break up mucus and remove it from the lungs. It also helps reduce the incidence of sinus infections.
Pine oil may be useful with a variety of skin conditions due to its strong antiseptic capacities. This includes psoriasis, acne, boils, athlete's foot, eczema and itching. Applied topically, it can also be used for a remedy of the scalp, especially in cases of dryness and dandruff.
Through neutralizing free-radicals, Pine oil helps us slow the process of cellular deterioration, thus slowing the process of aging.
Anti-oxidants aid in protecting us from, eye-diseases, muscle degeneration, as well as many nervous-system disorders.
With regular use, pine oil may help protect us against many types of fungal infections. It also holds anti-bacterial properties. This essential oil may aid in the prevention of common bacterial infections, including urinary tract infections and skin infections.
It is a great cleaning agent, and can be added to sprays and room-fresheners for a cleansing and brightening effect. Pine oil disinfectants have been shown to be effective in killing off many household germs, including mildew, yeast spores and E. coli.
Pine Needle Essential Oil blends well with
Although most essential oils blend well with one another pine oil blends particularly well with Cedarwood, eucalyptus, Lavender, Niaouli, Rosemary, Sage and Ylang Ylang.
Therapeutic properties
The therapeutic properties of pine oil are antimicrobial, antineuralgic, antirheumatic, antiseptic, antiviral, bactericidal, balsamic, cholagogue, deodorant, diuretic, expectorant, hypertensive, insecticidal, restorative, rubefacient, adrenal.
Therapeutic properties explained
Chemical composition
The main chemical properties of Pine Needle oil are borneol, bornyl acetate, a and b-phallandrene, a and b-pinene and 3-carene.
Extraction
Our Pine Needle Essential Oil is extracted by steam distillation of the needles of  the pine tree and yields about 0.1 -.05 %, this oil comes from Slovenia.
Precautions
Pine Needle Essential Oil is considered non-toxic and non-irritant in low dosage it should still be used with care on the skin, since it can cause irritation in high dosage and may sensitize the skin as well.