PETITGRAIN (Leaves and twigs) Citrus aurantium var. Amara 

 Petitgrain Essential Oil has a woody and at the same time a florally aroma the colour o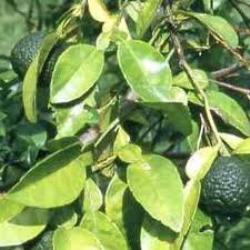 f the oil is pale yellow to amber. It is extracted from the leaves of the tree but was once extracted from the green unripe oranges, when they were still the size of cherries, hence the name Petitgrain or 'little grains.'
This crisp and clear Essential Oil is most useful in helping to enhance concentration and memory and to boost the conscious intellectual side of your mind, while calming anger and panic; It is great oil to use for convalescing after an illness and also for insomnia
Petitgrain Essential Oil can help with nervous exhaustion and stress-related conditions. It calms and soothes the mind, while relaxing the body, easing breathing, it eases rapid pulse rate by relaxing your nerves, thereby soothing your body as well as mind. It also helps relieve sleeplessness or insomnia. It reduces stress, anxiety, muscle spasms and stomach pains.
Petitgrain Essential oil is widely used in skin care products. It can be used to cure skin problems including acne, pimples, and blemishes. It serves to clear and tone the skin on account of its anti-bacterial properties. It is a boon for oily or greasy skin as it helps neutralize the oil secreted by the sebum glands on the skin.
It is a potent relaxant and laxative, tones your digestive system and prevents digestive ailments, including stomach ache and indigestion. It also regulates the bowel movements, thereby preventing constipation.
Petitgrain essential oil is a potent antiseptic and combats microbial infections. It boosts your immune system. It is anti-inflammatory in action and combats inflammatory ailments like bronchitis.
Petitgrain Essential Oil has a very pleasant as well as strong aroma, as such, it can also be used as a deodorant to mask body odour.
Petitgrain oil blends well with
Although most essential oils blend well with one another, petitgrain oil blends particularly well with Bergamot, Chamomile Roman, Clary sage, Geranium, Jasmine, Juniper berry, Lavender, Lemon, Orange, Neroli, Palmarosa, Rosemary, Sandalwood and Ylang Ylang.
Therapeutic properties
The therapeutic properties of petitgrain are antiseptic, anti-spasmodic, anti-depressant, deodorant, sedative and nervine.
Therapeutic properties explained
Chemical composition
The chemical components of petitgrain oil are geraniol, linalool, nerol, y-terpineol, geranyl acetate, linalyl acetate, myrcene, neryl acetate and trans-ocimene.
Extraction
Our Petitgrain Essential Oil originates from Paraguay and is extracted from the fresh leaves, small twigs by steam distillation and yields 0.5 – 1 %.
Precautions
Petitgrain oil is in general non-toxic, non-irritant, non-sensitizing and non-phototoxic.