ORIGANO  (Leaves and Flower Tops) Origano vulgare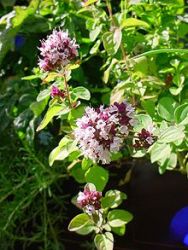 Oregano oil has a powerful, spicy, camphor-like aroma, is pale yellow in colour and medium viscosity. Due to high carvacol content, Oregano Essential Oil is considered to be "nature's cure all" as it is reputed to have one of the best antiseptic and anti-bacterial properties.
Oregano essential oil, Origano vulgare, is a potent oil which is antiseptic and kills parasites, viruses, bacteria and fungus.
Inhaled, it is believed to be beneficial for respiratory conditions that are bacterial or viral in nature. It also contains analgesic properties and works as an expectorant.
Oregano is a good effective sedative, tests have shown that it is one of the most effective oils to relax the brain and helps to calm hyper-sensitivity to external stimuli. It is a soothing, relaxing oil that can ease muscle spasms, stiff joints, coughing, indigestion and menstrual cramps.
It has been used as a traditional remedy for digestive upsets, respiratory problems (asthma, bronchitis, coughs, etc.) colds, and flu as well as for inflammations of the mouth and throat. It is also used to treat fever, vomiting, diarrhoea, jaundice and itchy skin conditions.
The (diluted) oil has been used externally in herbal medicine for headaches, rheumatism, general aches and pains, and applied to stings and bites.
It gives protection against viral infections, strengthening the immune system against cold, mumps, measles, pox and other problems created by virus.
Origano Essential Oil helps heal Psoriasis, Eczema, Athlete's foot, flu and other infectious ailments. It relieves congestion; studies have shown that it is as powerful a painkiller, with the added benefit that it is without the side effects
Oregano Essential Oil blends well with
Although most essential oils blend well with one another, Origano Essential Oil blends well with Lavender, Rosemary, Bergamot, Chamomile Roman, Cypress, Cedar Wood, Tea Tree and Eucalyptus

Therapeutic properties
The therapeutic properties of Orange Essential Oil are antiseptic, anti-depressant, antispasmodic, antiseptic' anti-inflammatory, aphrodisiac, astringent, bactericidal. Carminative, diuretic, cholagogue, cordial, deodorant, digestive, fungicidal, stimulant, stomachic, sedative and tonic.
Therapeutic properties explained
Chemical composition
The main chemical components of Orange Bitter Essential Oil carvacrol, thymol, p-cymene, cis-ocimene, caryophyllene and linalool.
Extraction
Our Oregano Essential Oil is extracted from the dried, flowering tops of the herb by steam distillation and comes from Spain
Precautions
A few Words of Caution: It can cause irritation of skin and mucus membrane, if taken in higher concentrations or dosages. Pregnant women should avoid using it.