ORANGE (SWEET) (Rind of fruit) Citrus aurantium var. dulcis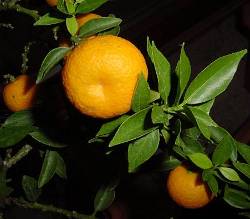 Sweet orange oil has a sweet, fresh and tangy aroma, is yellow to orange in colour, a lovely refreshing oil, cheery and bright. This unpretentious Essential Oil is sunny and radiant and is used in aromatherapy to create the feeling of happiness and warmth in the mind, aids relaxation and helps children to sleep at night. It is also is good for children and parties.
It calms nervous digestive problems, deals very well with colds and flu, eliminates toxins and stimulates the lymphatic.
Orange Essential Oil has been shown to promote the production of collagen as well as increase the blood flow to the skin. It is helpful at soothing dry, irritated skin as well as acne-prone skin. It is excellent for rubbing on calluses on the feet.
It is a good diuretic and is most useful in balancing water retention and obesity. Its lymphatic stimulant action further helps to balance water processes, detoxification, aiding the immune system and general well-being.
For the digestive system, Orange oil can help with constipation, dyspepsia and as a general tonic. It is also useful in cases of nervous tension and stress.
Orange Essential Oil is a strengthening, refreshing and stimulating, it is uplifting for the emotions and helpful in maintaining a healthy circulatory system and encouraging healthy digestion. Orange essential oil promotes relaxation and is a useful deodorant.
D-limonene is a super-nutrient that occurs in Orange Essential Oil. It has been studied extensively for its ability to prevent cellular mutations and combat cancer tumour growth.
Sweet Orange essential oil encourages detoxification by acting as a diuretic. It also stimulates the lymphatic system, the bladder and kidneys. Increased urination assists in the elimination of toxins like uric acid, bile and excess salts and helps relieve fluid retention. The detoxification and cleansing properties help breakdown and eliminate cellulite.
Orange oil blends well with
Although most essential oils blend well with one another, Orange oil blends particularly well with Black Pepper, Cinnamon, Clary Sage, Clove Bud, Frankincense, Ginger, Lavender, Lemon and Vetiver.   

Therapeutic properties
The therapeutic properties of Orange Essential Oil are antiseptic, anti-depressant, antispasmodic, anti-inflammatory, carminative, diuretic, cholagogue, sedative and tonic.
Therapeutic properties explained
Chemical composition
The main chemical components of orange oil are a-pinene, sabinene, myrcene, D-limonene, linalool, citronellal, neral and geranial.
Extraction
Our Orange Essential Oil originates in Brazil and is extracted from the orange peel by cold-pressing and yields              0.3 -0.5 %.
Precautions
It is a safe non-toxic, non-irritant and non-sensitizing oil, yet care must be taken with it since it can have a phototoxic effect. It should therefore preferably not be applied before going out into sunlight for prolonged periods.