NEROLI~ORANGE BLOSSOM (Flowers)  Citrus aurantium var. amara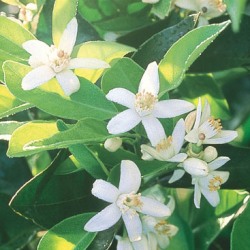 Neroli Essential oil has a sweet, floral and slightly haunting aroma; the colour is pale yellow, with a sweet exquisite perfume. It is also known as 'orange blossom' and it takes about 450 kg. of orange blossoms to make 0.5 kg of Neroli oil.
As with lavender, Neroli is one of the most popular essential oils, as it has great therapeutic properties, it is soothing and gentle and bestows confidence.
It has a greatly relaxing effect on the body and mind, relieving muscle spasms, calming heart palpitations and has a wonderful rejuvenating and regenerative effect on all skin types, especially dry, mature or problem skin. It improves the skin's elasticity, helping to prevent ugly scarring, fighting stretch marks and broken capillaries
Neroli oil is very relaxing and can relieve chronic anxiety, depression, fear, shock and stress; it has harmonizing, uplifting and revitalizing properties as well as a soothing effect on the emotions.
Its calming effect can also be beneficial to the digestive tract; it can be used for intestinal spasms, colitis and diarrhoea.
It helps insomnia, and as one of the essential oils with the most sedative effects is useful for treating depression, anxiety and shock and is also effective in calming heart palpitations, treating headaches, neuralgia and vertigo.
It can help when a patient is convalescing and is a good general tonic. Neroli Essential Oil is also well known for its aphrodisiac qualities.
Care must be taken when buying neroli oil, as many suppliers adulterate the oil to increase their profits, as it is a strong smelling oil and even when diluted still has the most incredible smell. The oil sold by us is unadulterated and 100% pure.
Neroli oil blends well with
Although most essential oils blend well together, Neroli Essential Oil blends particularly well with Benzoin, Bergamot, Geranium, Grapefruit, Lavender, Lemon, Lime, Jasmine, Rose Otto, Sandalwood, Rosemary and Ylang Ylang
Therapeutic properties
The therapeutic properties of Neroli oil are antidepressant, antiseptic, anti-infectious, antispasmodic, aphrodisiac, bactericidal, carminative, cicatrisant, cytophylactic, cordial, deodorant, digestive, emollient, sedative and tonic.
Therapeutic properties explained
Chemical composition
The main chemical components of neroli oil are a-pinene, camphene, b-pinene, a-terpinene, nerol, neryl acetate, farnesol, geraniol, linalool, nerolidol, linalyl acetate, methyl anthranilate and indole.
Extraction
Neroli oil is extracted from the, freshly picked, small, white, waxy flowers of the bitter-orange tree by steam distillation and yields 0.8 – 1 %.
Precautions
Neroli oil is non-toxic, non-sensitizing, non-irritant and non-phototoxic yet must be used sparingly when a sharp clear head is needed, as it can be very relaxing.