Neroli Hydrosol Citrus aurantium var. amara 
Neroli hydrosol called Neroli water is by-product of Neroli oil distillation and contains the water soluble constituents of the Orange Blossom flower. Neroli water has the fresh, sweet scent of oranges and invigorates the skin.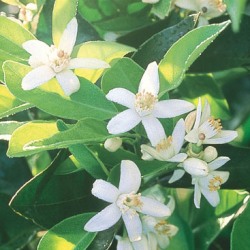 Neroli water, when added to a shower gel, its astringent properties prevent blemishes from forming and improves the appearance of skin.
It is mildly astringent and helps restore suppleness and vitality, which are often lacking in mature skin. Neroli water naturally soothes sensitive facial tissue and increases blood flow to the skin
It is a non-toxic, non-irritant, non-sensitizing, non-photo-toxic substance. More than 12% of all modern quality perfumes use Neroli as their principal ingredient.
Neroli floral water may benefit scars, stretch marks, thread veins, mature and sensitive skin, tones the complexion, and reduces the look and creation of wrinkles. It is helpful for palpitations, poor circulation, diarrhoea (chronic), colic, flatulence, spasm, nervous dyspepsia, anxiety, depression, nervous tension, and shock.
If applied to the face hydrolats should be diluted to 50% strength with purified water as they are dehydrating and will dry out the skin if used at full strength.