MYRTLE (Leaves) Myrtus communis 

Myrtle essential oil has a clear, fresh and sweet-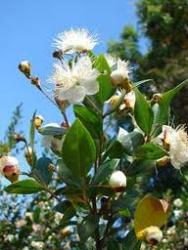 , balsamic, floral and slighly spicy aroma – somewhat reminiscent of Eucalyptus
This oil has clarifying, cleansing, refreshing and uplifting properties and said to be oil that is emotionally cleansing, curbing self-defeating feelings and addictions.
Physically, Myrtle is a good astringent for oily skin and acne. It is also useful in treating devitalized, irritated and inflamed skin, like geranium essential oil, its action is balancing and revitalizing.
Myrtle Essential Oil has a mildly sedative action; this property gives relief from tension, stress, annoyance, anger, distress and depression as well as from inflammations, irritations and allergies, which can make it useful in treating insomnia and nervous conditions.
It is non-irritating and non-sensitizing, which makes it an appropriate oil to treat children and the elderly in cases of respiratory afflictions, drives away phlegm, clears congestion of nasal tracts, chronic lung conditions, colds, infections, etc. and gives good relief from coughing.
Myrtle drives away odour. It can be used in incense sticks, burners, fumigants and vaporizers as room fresheners as well as can be used as body deodorants and perfumes. It has no side effects such as itches, irritations or patches on skin and is not harsh on the skin
Myrtle can be used against haemorrhoids, acne or pimples, cystitis, infections in the urinary tract and chronic problems like leucorrhoea etc, inhibits infections, being a bactericidal, germicidal, fungicidal and anti viral.
Myrtle blends well with
Although essential oils blend well with one another, Myrrh Essential Oil blends particularly well with Bergamot, Clary Sage, Clove, Eucalyptus, Hyssop, Ginger, Lavender, Peppermint, Rosemary, Spearmint, Thyme and Tea Tree.
Therapeutic properties
The therapeutic properties of Myrtle oil are anticatarrhal, antiseptic. (unrinary, pulmomary), astringent, balsalmic, exepectorant, regulator, slightly sedative
Therapeutic properties explained
Chemical composition
The main chemical components of Myrtle Essential Oil are Cineol, myrtenol, pinene, geraniol, linalol, camphene
Extraction
Unicorn Aromatherapy's Myrtle Essential Oil comes from Tunisia and is extracted by steam distillation of the leaves and twigs of the tree.
Precautions
Myrtle essential oil is non-toxic, non-irritating and non-sensitising