MAY CHANG (Fruit) Litsea cubeba 

 May Chang Essential Oil has a sweet fruity fragrance, uplifting and invi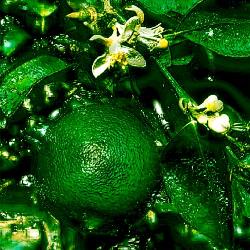 gorating, the colour of the oil is pale yellow to golden brown. It is steam distilled from the small fruit of a fragrant tropical tree. May Chang is also known as Litsea Cubeb.
May Chang Essential Oil works like a tonic, and has a potent strengthening, fortifying and sedative effect on the whole body.
It is calming and relaxing, the uplifting and invigorating properties are helpful in treatment of fatigue, lethargy, anxiety, depression and weariness and helps manage insomnia and disturbed sleep
May Chang essential oil has astringent-like properties, and as such, it helps close the skin pores, preventing skin conditions. It also assists in the cure of skin blemishes and tightens the skin, retaining a youthful appearance.
It also relieves excessive oil in the skin by maintaining the oil balance, and prevents pimples, and  acne  it also helps cure dermatitis and psoriasis.
May Chang is also anti-inflammatory in action and functions as a bronchial dilator and is therefore helpful for relief of symptoms associated with bronchitis and asthma.
May Chang is a powerful antiseptic that prevents the growth and multiplication of infectious agents. It is an anti-fungal, anti-bacterial and anti-viral and assists in fighting infections and boosting immunity. May Chang Essential Oil also prevents fungal infections such as ringworms, etc.
May Chang oil helps prevent coronary diseases, including high blood pressure, arteriosclerosis, and heart attacks.
It is  also a potent carminative and helps prevent the formation of gas in the stomach, thereby preventing flatulence, constipation and other digestive complaints.
May Chang Essential Oil blends well with
Although essential oils blend well with one another, May Chang essential oil blends well with rose, orange, geranium, neroli, jasmin, lemon, ylang ylang and grapefruit. It has a sweet, citrus-lemon aroma.
Therapeutic properties
The therapeutic properties of  May Chang Essential oil are anti- inflammatory and calming properties. Other therapeutic actions are: antidepressant, astringent, antiseptic, calmatic, insecticide, hypotensive, sedative and tonic.
Therapeutic properties explained
Chemical composition
The main chemical constituents are sabinene, a-terpinene, y-terpinene, p-cymene, terpinolene, linalool, cis-sabinene hydrate, linalyl acetate, terpinen-4-ol and y-terpineol.
Extraction
Unicorn Aromatherapy's May Chang Essential Oil originates from China and is extracted by steam distillation from the fruit of the Litsea Cubeba shrub.
Precautions
May Chang Essential Oil is non-toxic and non-irritating. It may cause sensitisation in some individuals.