LEMON VERBENA (Leaves) Lippia citriodora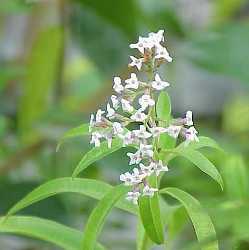 Lemon verbena oil has a lemony, fruity, floral fragrance and is pale olive or yellow in colour. This Essential Oil is great to banish blues and depression while boosting liver function and helping the digestive and respiratory system and at the same time softening the skin and reducing puffiness
n the digestive system, lemon verbena oil helps with cramps, indigestion and liver congestion and is helpful to restore the liver after a binge and when suffering from a hangover.
The stimulant action on the digestive system helps to digest fats and the excellent action on the liver helps in cases of cirrhosis, as well as alcoholism.
It soothes the respiratory tract and calms heart palpitations. The calming action of the oil helps in sexual matters.
Lemon verbena oil helps to banish depression and relaxes as well as refreshes the body and mind, while uplifting the spirits and promoting stress control.
Lemon verbena oil blends well with
Although essential oils blend well together, Lemon verbena oil blends particularly well with Elimi, Lemon, Neroli and Palmarosa.
Therapeutic properties
The therapeutic properties of Lemon verbena oil are antiseptic, antispasmodic, aphrodisiac, digestive, emollient, febrifuge, hepatic, insecticide, sedative, stomachic and tonic.
Therapeutic properties explained
Chemical composition
The main chemical components of Lemon verbena are borneol, geraniol, linalool, nerol, citral, dipentene, limonene and myrcene.
Extraction
Our Lemon verbena Essential Oil originates in Spain and is extracted from the freshly harvested leaves by steam distillation.
Precautions
There is not much safety data regarding lemon verbena oil, but since it has a high citral level it may cause sensitization and is phototoxic.