Lavender Hydrosol Lavendula angustifolia
Lavender water is a relaxing and calming floral water and is a by-product of the distillation of lavender flowers for the essential oil. It has the similar properties to lavender oil because it contains the water soluble constituents of Lavender.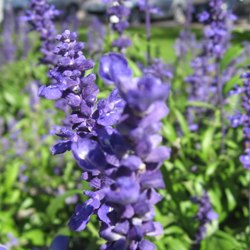 Lavender water is an excellent skin toner and gives the face a fresh look, it can also be used to nourish the hair and make it soft and shiny. Lavender water relieves anxiety, stress, insomnia and headache. It is mildly sedative. It improves circulation and eases muscle pain, gout and rheumatism
Lavender water can be added during bath for relaxation and tranquillity; it can also be blended with skin care home preparations.
Lavender water helps abscesses, acne,  allergies, athlete's feet and fungal infections, boils, bruises, burns, cold sores, cuts, dermatitis, eczema, hives, inflammations, insect bites and stings,  lice,  psoriasis, rashes, ringworm, scabies, scars, shingles,  stretch-marks, sunburns  and wounds.
Some other uses of Lavender water are scanty or painful periods, and it even is said to help with breaking bad habits.
If applied to the face hydrolats should be diluted to 50% strength with purified water as they are dehydrating and will dry out theskin if used at full strength.