LAVANDIN: (Flowers) Lavandula hybrida abrial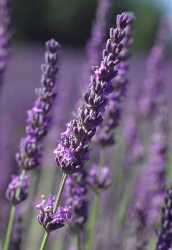 Lavandin Essential Oil has a light floral aroma, similar to lavender oil – just sharper and it is clear in colour. Similar to true Lavender, but more penetrate, with a shaper scent. Lavandin is a hybrid plant developed in 1900 by crossing true lavender (L. angustifolia) with spike lavender or aspic (L. latifolia) and is larger than lavender with a woody stem and blue or grey flowers.
Lavandin Oil has many of the same actions as true Lavender; it calms the nerves, relieving tension, depression, panic, hysteria and nervous exhaustion in general and is effective for headaches, migraines and insomnia.
Although sometimes confused with its cousin, lavender, it really is wonderful oil in its own right and helps you feel more relaxed, easing pain when used for rheumatism, arthritis, lumbago and muscular aches and pains, especially those associated with sport.
On the skin, Lavandin oil tones and revitalizes it has a healing effect, while preventing scarring and balancing the skin It is useful for all types of skin problems such as abscesses, acne, oily skin, boils, sunburn, wounds, psoriasis.
It is also very beneficial for problems such as bronchitis, asthma, colds, laryngitis, halitosis, throat infections and whooping cough and helps the digestive system deal with colic, nausea, vomiting and flatulence.
Lavandin is also beneficial for respiratory clearing the lungs and sinuses from phlegm helping with coughs, colds and flu.
One benefit it does NOT share with lavender is the ability to help heal burns.  Apparently due to its higher camphor content it can actually make the burns worse.
Lavandin blends well with
Although essential oils blend well with one another, Lavandin oil blends particularly well with Bergamot, Citronella, Cinnamon, Clary Sage. Jasmine, Patchouli, Pine, Rosemary and Thyme,
Therapeutic properties
The therapeutic properties of lavandin Essential Oil are analgesic, antidepressent, antiseptic, antispasmodic, antitoxic, cordial, deodorant, emmenagogue, sedative, stimulant, tonic
Therapeutic properties explained
Extraction
Our Lavandin Essential Oil is originates from Spain and is extracted from the fresh flowering tops by steam distillation.
Chemical composition
The main chemical components of lavandin oil are lavandulol, linalool, linalyl acetate, camphor, cineole, caryophyllene, camphene, dipentene, limonene, ocimene and terpinene.
Precautions
Lavandin oil is non-toxic, non-irritant and non-sensitizing. Do not use on burns