Hazelnut Oil- Corulus avellana.

 Hazel nut has a faintly nutty aroma, is highly penetrative and is fine textured and is one of the most highly unsaturated vegetable oils.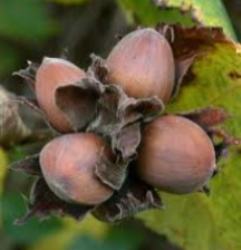 Hazelnut oil acts as an excellent emollient and moisturiser because it has a number of essential fatty acids such as linoleic acid, which can rehydrate the skin. This oil is very light and easily gets absorbed into the skin and does not leave an oily residue. The antibacterial properties help to maintain clean, clear and healthy skin.
The healthy and rejuvenating properties of Hazelnut oil make it perfect for body massage, helping to relieve the physical and mental stresses of daily life. A regular massage with this oil helps in cell regeneration and can even strengthen the capillaries.
Hazelnut is suitable for all types of skin; it is particularly good for sensitive skin. This oil is best suited for those with oily skin as the moisturising property of Hazelnut keeps the skin free from excessive secretions. The astringent properties help to tone and tighten the skin and to maintain the its firmness and elasticity. Hazelnut oil can be used as sunscreen as it is able to filter all the harmful rays of the sun.
Hazelnut is a source of Vitamin B6, Vitamin E, and the anti-oxidant properties of these vitamins help in solving many of the problems associated with ageing. Free radicals cause the maximum amount of damage like the destruction of cells and chapped skin. Regular application of Hazelnut oil is able to reverse this process by eliminating the free radicals.
Fatty acids found in Hazelnut Oil
Palmitic Acid 4.0- 8.0 %, Palmitoleic Acid 0.1 – 0.6 %, Stearic Acid 1.5 – 3.5 %, Oleic Acid 68.0 – 85.0 %, Linoleic Acid 7.0 – 15.0 %, Linolenic Acid 0.1 – 0.5 %, Arachidic Acid 0.1 – 0.5 %, Gadoleic Acid 0.1 – 0.3 %, Behenic Acid 3.0 % MAX
Precautions
Hazelnut is non-toxic and non-irritant as well and non-sensitizing. As it comes from the kernel of the nut it is necessary to check for nut allergy.