Grapeseed Oil- Vitis vinifera.

 Grapeseed oil is a non- greasy carrier, with a fine texture, a very slight sweet hint of a nutty aroma, and satiny finish it is rich in linoleic acid, an essential fatty acid important for the skin and the cell membranes, it is purported to have regenerative and restructuring virtues. The antioxidants, vitamins and other nutrients present in the oil makes it an attractive remedy for a variety of skin disorders. Not only does a regular use of grapeseed oil make the skin soft and supple but it also strengthens and fortifies the skin.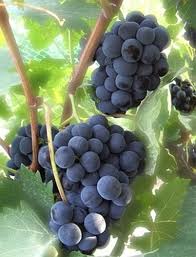 It has excellent emollient and moisturising properties, which helps in making the skin soft and strong. It is also popular for its astringent property which tones the skin and keeps it tight thus preventing wrinkles and other signs of ageing. The linoleic acid and polyunsaturated fatty acid, which are the essential components of cell membrane, present in this oil provides additional nourishment to the skin.
This oil is extensively used for the treatment of acne and many other skin problems.  This oil can also be used to treat sunburn and tanning. Besides, the oil has several antiseptic properties, which make it suitable for almost all minor skin ailments.
Grapeseed oil does wonders for the hair and so it is widely used in hair treatments and is ideal for thin, greasy, damaged and delicate hair.  For shiny and healthy hair, it is essential that it should be treated with oil.  Oiling the hair is also necessary to keep the hair free from dandruff, hair loss, hair breakage, split ends and almost any other common hair problems. Massaging the hair and scalp with Grapeseed oil, on a regular basis, will ensure that the hair stays strong and healthy. It is also light and non-greasy and doesn't have the stickiness like other oils.
Grapeseed oil can also be used to address many health problems such as arthritis. Studies prove that the regular use of this oil increases the collagen production, which is essential for maintaining the strength of joints. The anti-inflammatory properties of the oil are useful in reducing the joint pains.
This oil is extremely good in lowering the level of harmful Low Density Lipoprotein (LDL), which is the main cause of heart disease. On the other hand, it increases the level of High Density Lipoprotein (HDL), which is also known as good cholesterol as it doesn't clog the arteries.
Fatty acids found in Grapeseed Oil
Palmitic Acid 6.5 %, Palmitoleic, Acid 0.2 %,  Stearic Acid 3.7 %,  Oleic Acid 23.4 %, Linoleic Acid 65.3 %,  Alpha Linolenic Acid  0.2 %, Icosanoic Acid 0.2 %, Icosenoic Acid 0.2 %,  Docosanoic Acid 0.2 %
Precautions
Grapeseed oil is considered to be safe for topical use and is rarely associated with allergic reactions. It may be used safely on its own or in Aromatherapy and skin care preparations.