GINGER (Roots) Zingiber officinalis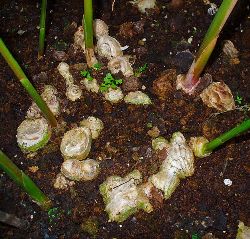 Ginger oil can vary in colour from pale yellow to a darker amber colour and the viscosity also ranges from medium to watery. It is a strong smelling oil – spicy, sharp, warm and with a hint of lemon and pepper.
The gingerols found in Ginger Essential oil break down the toxins in the organs and lymph nodes thereby reducing the accumulation of toxic substances that can trigger lymph node inflammation. It is excellent for lymph nodes because it reduces the pain associated with inflamed nodes, it also helps your bodies defence system to fight bacterial diseases and fungal infections.
This oil is useful in massage blends for the circulatory system and tired muscles.
Ginger Essential Oil is often used for digestive problems, as well as nausea – be that morning sickness or travel upset.
It is also of value when treating colds and flu and especially for catarrhal lung conditions and rheumatic pain. It can also be used on the skin to help clear bruises.
Ginger oil is used in the treatment of fractures, rheumatism, arthritis, bruising, carbuncles, hangovers, catarrh, congestion, coughs, sinusitis, and sores on the skin, sore throat, diarrhoea, colic, cramps, chills and fever.
Ginger Essential Oil blends well with
Since ginger oil is strong smelling, it can overpower weaker oils, but blends well with all citrus and spicy oils such as Bergamot, Frankincense, Lemon, Lime, Neroli, Orange, Patchouli, Rose, Sandalwood, Vetivert and Ylang Ylang
Therapeutic properties
The therapeutic properties of Ginger oil are analgesic, anti-emetic, antiseptic, antispasmodic, bactericidal, carminative, cephalic, expectorant, febrifuge, laxative, rubefacient, stimulant, stomachic, sudorific and tonic.
Therapeutic properties explained
Extraction
Our Ginger Essential Oil originates from China the oil is extracted by means of steam distillation from the unpeeled or dried, ground-up root (rhizome) of the plant, and can yield about 2 – 4 % oil.
Chemical composition
The essential oil has various chemical constituents including the following: a-pinene, camphene, b-pinene, 1,8-cineole, linalool, borneol, y-terpineol, nerol, neral, geraniol, geranial, geranyl acetate, b-bisabolene and zingiberene.
Precautions
Ginger Essential Oil is non-toxic and non-irritant (except when used in high concentrations) but could irritate sensitive skins and can also cause photosensitivity.