GERANIUM (Leaves, Stalks and Flowers) Pelargonium graveolens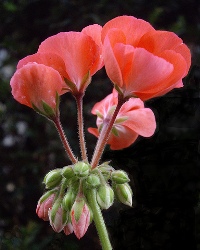 The oil is mostly colourless, with a lovely floral fragrance. Geranium Essential Oil has stimulating and regenerating properties making this essential oil wonderful as a body skincare product for all skin types.
Geranium Essential oil has a firm place in aromatherapy, as it helps to balance the mind and emotions, while stimulating the adrenal cortex, balancing the hormonal system and stimulating the lymphatic system.
On the other hand, it balances the production of sebum in the skin, while keeping it supple and helping with the healing of wounds.
It is balancing and stabilising to both mind and body these properties of oil make it an excellent women's oil, especially during menstruation and the menopause.
Geranium oil can be used to help in the treatment of acne, bruises, burns, cuts, dermatitis, eczema, haemorrhoids, lice, as a mosquito repellent, ringworm, ulcers, breast engorgement, edema, poor circulation, sore throat, tonsillitis,
Geranium oil blends well with
Although Essential Oils blend and mix well aroma-wise with one another, Geranium oil does go very well with other oils such as Angelica, Basil, Bergamot, Carrot Seed, Cedarwood, Citronella, Clary Sage, Grapefruit, Jasmine, Lavender, Lemon, Lime, Neroli, Orange, Patchouli, Rosemary and Tea tree.
Therapeutic properties
The therapeutic properties of geranium oil are astringent, haemostatic, cicatrisant, cytophylactic, diuretic, deodorant, haemostatic, styptic, tonic, vermifuge and vulnerary.
Therapeutic properties explained
Extraction
Our Geranium Essential Oil comes from Egypt, is produced from leaves, stalks and flowers by steam distillation.
Chemical composition
The essential oil is composed of various chemical constituents and includes a-pinene, myrcene, limonene, menthone, linalool, geranyl acetate, citronellol, geraniol and geranyl butyrate.
Precautions
Geranium oil does not cause any side effects, since it is non-toxic, non-irritant and generally non-sensitizing, yet can cause sensitivity in some people and due to the fact that it balances the hormonal system, it might not be a good idea to use it during pregnancy.
However contact dermatitis is possible in hypersensitive individuals, especially with the Bourbon type, patch test to check.