Eucalyptus Smithii (Leaves) Eucaluptus smithii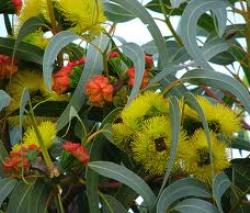 Eucalyptus smithii essential oil is also known as Gully Gum, from a tree with long, narrow and yellowish leaves. Originally from Australia, many Eucalyptus varieties were transplanted to South Africa around 1980, where they're truly thriving.
The oil does have a woody, camphorous aroma, as do other Eucalyptus species, with a wonderful "fresh" aspect to it.
Eucalyptus smithii Essential Oil is antibacterial, refreshing and stimulating, the oil is considered the mildest of all varieties, and for many people it is well tolerated when applied topically.
smithii is an Essential Oil that is widely recognised for its affinity with the respiratory system and in winter time and can be beneficial for coughs, colds and flu.
It is also a mentally and physically stimulating essential oil that can be helpful for fatigue related conditions. Eucalyptus Smithii is the mildest Eucalyptus and is the preferred choice for use with children or the elderly or when prolonged use is required.
This Eucalyptus oil has antiseptic and antibacterial properties; it feels cool to the skin but has a warming effect on the joints and muscles.
Eucalyptus smithii oil has a stimulant effect and is good for fatigue and lethargy and feelings of heaviness in the mind.
While the science of Eucalyptus doesn't focus on Smithii, simply due to it being less popular in production than Blue Gum or Radiata (Narrow Leaf), it has been shown that inhalation of the essential oil can stimulate the immune system by up regulating the actions of our white blood cells, causing them to more actively remove infectious and contagions from the bloodstream
Eucalyptus smithii oil blends well with
Eucalyptus smithii Essential Oil blends well with Cedarwood, Clary Sage, Geranium, Ginger, Juniper berry, Lavender, Lemon, Marjoram (Origanum marjorama), Myrrh, Peppermint, Pine,  Ravensara,  Rosemary, Tea tree, Thyme and other Eucalyptus oils
Therapeutic Properties
The therapeutic properties of eucalyptus oil are analgesic, anti-bacterial, anti-inflammatory, anti-neuralgic, anti-rheumatic, antiseptic, antispasmodic, antiviral, astringent, balsamic, decongestant, deodorant, depurative, diuretic, expectorant, stimulant, expectorant, mucolytic and immune system activator. antifungal, analgesic
Therapeutic properties explained
Extraction
Our Eucalyptus smithii Essential Oil originates from Australia and is extracted by steam distillation from the fresh or partially dried leaves and twigs.
Chemical composition
Oxides as 1.8 Cineole 75%, terpenes as a-Pinene, Limonene, p-Cymene, phillandrene 10%, alcohols as globulol, trans pinocarveol 6%, sesquiterpenes as armadendrene 4%, esters as a – terpinyl acetate 1.0%, ketone pinocarvone 1.0%, acids, aldehydes
Precautions
People with high blood pressure or suffering from epilepsy should avoid Eucalyptus. Eucalyptus essential oil is essentially non-toxic, non-irritant (in dilution) and non-sensitising. Not suitable for use on children under 3 years of age.