EUCALYPTUS Citreodora (Leaves of tree) Eucalyptus Citreodora

 Eucalyptus Citreodora Essential Oil is also known as Lemon Eucalyptus, this Essential Oil has the strong aroma of Eucalyptus with a refreshing and stimulating lemony tone.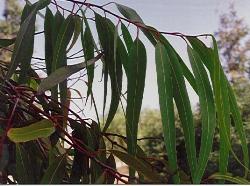 The penetrating qualities of Eucalyptus Citreodora make it useful in massage oil blends for muscular fatigue and ideal for normal to oily skins and useful in inhalations; it is head-clearing and promotes a natural sense of well-being.
It is useful in the treatment of asthma, athlete's foot, Candida, colds, cuts, infections, insect repellent, sore throat, sores and wounds.
The fungicidal, antibacterial and antiviral actions of this oil make it effective against infections. The insecticidal properties which help to repel insects come from the citronellal content of the oil.
It is a wonderful air freshener, good for clearing the air and killing germs (reputed to have anti-staph properties). In addition, lemon eucalyptus essential oil has analgesic and calming properties.
Eucalyptus Citreodora oil blends well
Eucalyptus Citreodora Essential Oil blends well with Basil, Black Pepper, Cedarwood, Clary Sage, Clove, Cypress,  Frankincense, Geranium, Ginger, Juniper Berry, Lavender, Lemon, Marjoram (Origanum marjorama), Orange, Peppermint, Pine, Ravensara,  Rosemary, Sage, Thyme, Vetiver and Ylang Ylang
Therapeutic properties
The therapeutic properties of Eucalyptus Citreodora Essential Oil are antiseptic, antiviral, bactericidal,
Therapeutic properties explained
Extraction
Our Eucalyptus citriodora Essential Oil originates from China and is extracted by steam distillation from the fresh or partially dried leaves.
Chemical composition
The main chemical components of Eucalyptus Citriodora are Citronellal, Citronellyl Acetate, Citronellol, 1,8-Cineole, Linalool, Menthoglycol.
Precautions                              
Eucalyptus Citreodora Essential Oil is essentially non-toxic, non-irritant (in dilution) and non-sensitising. Not suitable for use on children under 3 years of age, avoid during pregnancy