CELERY Seed: (Seeds) Apium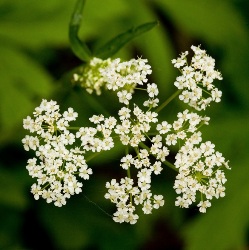 A spicy, warm, sweet, long lasting odour. It is mainly used in Aromatherapy for muscle and joint remedies as an aid to help mobility. Diffused, Celery Seed can help with headaches, insomnia, and mental fatigue.
This essential oil can be helpful when stress and fear are holding us back from acting decisively. Celery seed acts on the central nervous system, whose core processing units are the brain and the spinal cord, acting on this system, can stabilize mood swings.
Celery seed increases the elimination of uric acid and is useful in bringing relief from arthritis, gout, neuralgia, water retention, and oedema.
Celery helps to release toxins from the blood and aids in liver decongestion and jaundice. Massaging celery seed oil onto the lower back and along the sciatic nerve can reduce painful swelling.
The oils calming effect on the digestive system makes it useful for bloating and indigestion. Celery seed is used in weight loss programs because it suppresses hunger cravings and calms anxiety.
Celery Seed Essential Oil blends well with
Celery seed essential oil blends well with Basil, Cedarwood, Lavender, Vetiver, Pine and Tee Tree
Therapeutic Properties
Antioxident, antiseptic (urinary), antispasmodic, aperitif, digestive, diuretic, carminative, emmenagogue, galactagogue, hepatic, nervine, sedative, stomachic, hepatic, uterine stimulant, tonic
Therapeutic properties explained
Extraction
Our Celery Seed Essential Oil from India and is extracted by steam distillation of the whole or crushed seeds.
Chemical Composition
The main components Celery Seed Essential Oil are d-limonene, selinene, sesquiterpene alcohols, sedanolide, and sedanonic anhydride. A fixed oil includes the fatty acids petroselinic, oleic, linoleic, myristic, palmitic, palmitoleic, stearic, and myristoleic.
Precautions
Therapeutic amounts of celery, as well as the oil made from the seeds are not to be used in pregnancy.