CEDARWOOD Atlas (Tree) Cedrus atlantica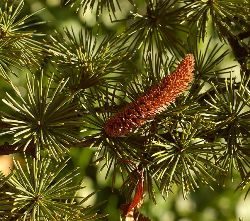 The scent of Cedarwood Atlas can be described as being warm, sweet, and tenacious, with a balsamic aroma, yellowish to orange-yellow or deep amber-coloured.
Cedarwood atlas can help relieve the itching associated with skin conditions such as eczema and dermatitis. Its astringent effect is also beneficial for oily skin, acne and dandruff.
Cedarwood atlas is similar in action to the highly expensive Sandalwood, it also has a sedative effect making it grounding helping to calm and soothe nerves, mental stress, anxiety and nervous tension.
It can help to reduce fear and instil strength and confidence. Cedarwood atlas can help ease respiratory problems such as asthma and bronchitis.
It also helps to clear urinary infections and can assist with rheumatism and arthritis. Its actions are sedative, astringent, and antiseptic.
Cedarwood atlas Oil blends well with
Bergamot, Clary Sage, Cypress, Frankincense, Jasmine, Juniper Berry, Lavender, Lemon, Neroli, Chamomile Roman, Rose, Rose Geranium, Vetiver, Ylang .
Therapeutic Properties
antiseptic, antiputrescent, antiseborrheic, aphrodisiac, astringent, diuretic, expectorant, fungicidal, mucolytic, sedative(nervous), stimulant(circulatory).
Therapeutic properties explained
Extraction
Our Cedarwood Atlas Essential Oil Originates from Morocco, wood chips and sawdust are subjected to steam distillation to extract the oil and the yield is about 35 %.
Chemical Composition
A typical chemical composition of Cedarwood Atlas Essential Oil: Himachalene (14.5%), a-himachalene (10%), b-himachalene (42%), cis-bisaolene (1.2%), himachol (4.0%), a-atlantone (5.0%), g- atlantone  (5.0%), himachalene oxide (1.0%)
Precautions
High concentrations will irritate the skin.