CAJEPUT: (Leaves) Melaleuca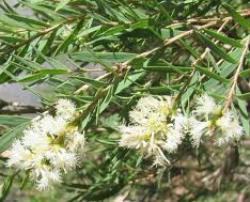 Cajuput oil has a sweet camphoraceous rather penetrating smell. A warm stimulating oil, useful as an inhalant and for easing muscular fatigue.
This powerful oil is used with great success for digestive and skin problems and helps to balance the mind by clearing thoughts, stimulating the mind and dispelling the feeling of sluggishness. By promoting sweating,
Cajuput oil cools down the body and helps with infections such as colds, laryngitis and bronchitis. It is also helpful for asthma, sinusitis and a sore throat. It calms the digestive system, soothes colic, enteritis, dysentery, vomiting. Spasms, arthritis, rheumatism and muscular aches and pains can also benefit from it.
This oil is a versatile antiseptic and clearing essential oil that can also be used effectively as an inhalant during the cold season.Not only does it help with skin conditions such as acne and psoriasis, it is also used to ward off insect bites from lice and fleas.
Cajuput oil blends well with
Cajuput Essential oil blends particularly well with Angelica Seed, Bergamot, Clove Bud, Cypress,Geranium, Juniper Berry, Lavender, Lemon, Pine, Rosemary and Thyme
Therapeutic properties
The therapeutic properties of cajuput oil include analgesic, anti-neuralgic, antiseptic, anti-spasmodic, decongestant, expectorant, insecticide, febrifuge, carminative, stimulant, sudorific, vermifuge and tonic.
Therapeutic properties explained
Extraction
Our Cajuput Essential Oil is Chinese and is extracted from fresh leaves and twigs by steam distillation.
Chemical composition
The main chemical components of Cajuput oil include a-pinene, b-pinene, myrcene, a-terpinene, limonene, 1,8-cineole, y-terpinene, p-cymene, terpinolene, linalool, terpinen-4-ol and a-terpineol.
Precautions
Cajuput oil is non-toxic and non-sensitizing, yet could irritate the skin when used in high concentration and can also easily irritate the mucus membranes.