Borage Oil – Borago officinalis.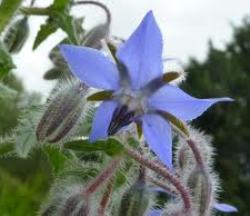 Cold pressed Borage is a true jewel among herbal oils of aromatherapy quality, it contains a high amount (30%) of gamma linoleic acid (GLA) a fatty acid that the body converts to a hormone-like substance called prostaglandin E1 (PGE1).
PGE1 has anti-inflammatory properties and may also act as a blood thinner and blood vessel dilator. GLA is a precursor of the hormone Prostaglandin PGE1 which inhibits the release of infected substances secreted by white cells.
It has been confirmed that the borage encourages the production of adrenaline which helps the body cope with stressful situations or for mental exhaustion and depression. I
t is also a hormonal balancer and helps to improve mood in menopausal depression. Borage oil can be added to other carriers at 10% to 15% to give blends a boost.
Borage is excellent for skin care especially dry or mature, damaged and sunburned skin and helps to keep the skin looking young and feeling supple. It can also be used undiluted an as intensive night treatment for face or neck and is widely acknowledged as a help in dealing with stretch marks.
Borage oil is effective in cases of auto-immune inflammations, joint inflammations, eczem and atopic dermatitis.
Fatty acids found in Borage Oil
palmitic acid (10-11%), stearic acid(3.5-4.5%), oleic acid(16-20%), linoleic acid(35-38%), eicosenoic acid(3.5-5.5%), euricic acid(1.5-3.5%), and nervonic acid(1.5%).
Precautions
Not recommended for use during pregnancy.