BASIL (Flowering Herb) Ocimum basilicum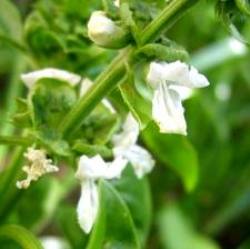 The wonderfully reviving fragrance of Basil essential oil gives the mind strength and clarity whilst helping to combat fatigue, is helpful for headaches and migraines.
It is liberating and has an uplifting effect on depression, it steadies the nerves, while easing sinus congestion, cooling down fevers and treating menstrual problems.
Basil helps to minimize uric acid in the blood, thus relieving gout; has refreshing and toning effect on the skin and can be used for insect bites.
Scientific studies have established that compounds in Basil oil have potent antioxidant, anti-cancer, anti-viral, and anti-microbial properties.
Basil oil blends well with
Although essential oils blend well with each other, Basil oil goes particularly well with oils such as: Bergamot, Black Pepper, Cedarwood, Clary Sage, Fennel, Ginger, Geranium, Lavender, Marjoram (Origanum marjorama) and citrus oils
Therapeutic properties
The therapeutic properties of basil oil are analgesic, antidepressant, antispasmodic, anti-venomous, carminative, cephalic, diaphoretic, digestive, emmenagogue, expectorant, febrifuge, insecticide, nervine, stomachic, sudorific, tonic and stimulant.
Therapeutic properties explained
Extraction
Our Basil Essential oil comes from India and is extracted by steam distillation from the leaves and the flowering tops.
Chemical composition
Basil oil has various chemical compounds that include a-pinene, camphene, b-pinene, myrcene, limonene, cis-ocimene, camphor, linalool, methyl chavicol, y-terpineol, citronellol, geraniol, methyl cinnamate and eugenol.
Precautions
Although basil oil usually stimulates, in excess it can have a stupefying effect and should not be used during pregnancy or on children under 16 years.
Since it can irritate a sensitive skin, it must be used with care on people with sensitive skins.