Avocado Refined Oil- Persea americana.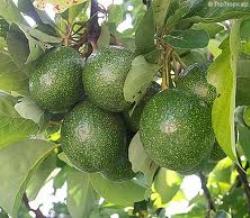 Our cold pressed Avocado Oil is refined to remove the chlorophyll and non oil elements in the pulp of the fruit, which give it the green colour and unpleasant odour. This mixture of non oil elements contains micro bacterial activity that has been known to cause problems when applied to the skin. The refining process does not detract from the aromatherapy properties of the oil.
Avocado Oil is a mild, easily absorbed, nourishing and has wonderful emollient properties it contains vitamins A, B1, B2 Panthothenic acid, Vitamin D, E, protein, lecithin and fatty acids. It is used when the skin is tired and lacks lustre and can be applied to the face as an intensive facial treatment
This oil is very useful for skin problems, especially eczema and psoriasis it is excellent for dry, ageing and dehydrated skins and helps prevent chapping and cracked skin. It can help with stretch mark and is useful in blends for arthritic pain.
Avocado is a very useful oil when treating sun or climate damaged skin that is dehydrated and under nourished as it is said to help with the regenerating of the skin and softening of the tissue.
Fatty acids found in Avocado Oil
A typical chemical composition of Avocado oil is fatty acids of :- Palmitic 14.25 %, Palmitoleic 5.84 %, Stearic 0.1 %, Oleic 65.4 %, Linoleic 14.74 %, Linolenic 0.8 %
Precautions
Avocado is non-toxic and non-irritant as well and non-sensitizing.