Almond Sweet Oil- Prunus amygdlalus var.dulcis.

 Almond Sweet is non greasy and lubricating, but not penetrating, which makes it an excellent massage oil. It is suited to all skin types; it also has a beneficial effect on eczema as it can help relieve symptoms of: Itching, caused by conditions such as eczema, dermatitis, psoriasis and sunburn, soreness, dry skin, and even inflammation.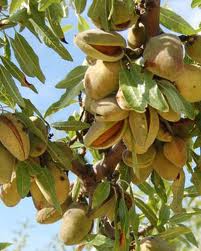 Not only does almond oil help protect the surface of the skin, but has great value to act as an emollient, skin soother and softener while conditioning the skin and promoting a clear young looking complexion and can also help to relieve muscular aches and pains.
Almond oil being a rich source of vitamin E, its regular use will reduce wrinkles and prevent stretch marks.
It is perhaps the best ingredient to reverse the common signs of ageing such as scars, age spots and loose skin, all of which can all be eliminated with regular almond oil massage.
It is rich in minerals, vitamins and proteins; it contains vitamins A, B and E. It has a rich concentration of oleic and linoleic essential fatty acids, analysis shows, approximately 8% saturated fat, 65% oleic acid (an omega-9 fatty acid) and 27% linoleic acid (an omega-6 essential fatty acid).
Fatty acids found in Almond Sweet Oil
A typical chemical composition of Almond Sweet oil is:- palmitic 5.5%, palmitoleic 0.2%, stearic 2.8%, oleic, 70%, linoleic 21%, alpha linoleic 0.1%, archidic 0.1%, eicosenoic 0.1%, behenic 0.1%, eruic  0.1% maximum
Precautions
As this oil comes from the kernel of the almond nut, a check should be made to ensure that the person having the oil applied to their skin does not have a nut allergy.