Peppermint Hydrosol Mentha piperita
Peppermint hydrolat called Peppermint water is a by-product of Peppermint oil distillation and contains the water soluble constituents of the Peppermint plant.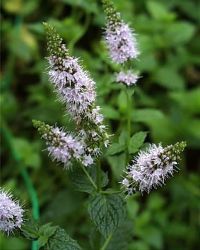 It provides symptomatic relief for painful inflammatory states like arthritis, chronic tendinitis and acute sprains and strains.
Peppermint water is, refreshing and cooling on application to the skin. It is ideal for sunburn and spraying can help to keep gnats and flies away, so making it perfect for summer use. The cooling action is useful as a spray after exercise and the natural antiseptic properties will help to kill bacteria in the skin, helping to keep your skin looking healthy and vibrant.
Peppermint floral water is excellent as a compress for headache and migraine pain. It also helps relieve muscular aches and pains, and tired legs.
Topically it combats itching and burning, providing fast relief for allergic reactions, bites, and stings. It is mentally stimulating; peppermint is the wake-up water. Spray it on the face (avoiding the eyes) to revive during hot weather or when tired.
If applied to the face hydrolats should be diluted to 50% strength with purified water as they are dehydrating and will dry out the skin if used at full strength.