GALBANUM (Gum) Ferula galbaniflua                                                                                        
Galbanum Essential Oil is a viscous liquid with a pine-like top note. It possesses an intensely green, fresh leafy odour with a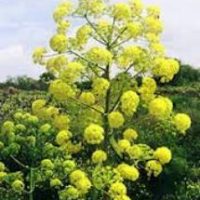 dry woody back note of balsamic, bark like character.
Galbanum essential oil has soothing, strengthening and relaxing properties and brings pleasure to mind and soul. It is particularly effective at balancing the emotions, especially when used in massage, helping to promote relaxation and soothe tired and tense muscles.
This essential Oil is traditionally used to treat wounds, skin disorders and inflammation and particularly useful for slow healing skin conditions.
It is noted for its respiratory and digestive properties as well as being beneficial in the treatment of asthma, bronchitis, chronic coughs, panic attacks and conditions of claustrophobia.
Galbanum helps to stimulate the circulation, it can be beneficial for arthritis, rheumatism, joint and muscle pain and muscle spasm.
Galbanum has a detoxifying and rejuvenating effect on the skin. It is beneficial for skin inflammation, scar tissue, acne, cuts and mature skin and wrinkles.
Galbanum oil blends well with
Galbanum Essential Oil Blends well with Geranium, Grapefruit, Lavender, Lemon, Orange, Pine and Rose
Therapeutic properties
Analgesic, anti-inflamatory, antimicrobial, antiseptic, antispasmodic, balsamic, carmative, cicatrizant, digestive, diuretic, emmenagogue, expectorant, hypotensive, restorative, tonic
Therapeutic properties explained
Extraction
Our Galbanum Essential oil originates from Iran, to obtain the resinous gum, incisions are made in the stalk near the roots, from which the gum runs like brown tears. This is sometimes viscous, sometimes dry, depending on the species. Approximately 14 -25 per cent of essential oil is obtained by steam distillation from the gum
Chemical composition
The main constituents of Galbanum Essential Oil are 3-pinene,3-carene, α-pinene, myrcene, cadinene with small amounts of d-limonene, terpinolene, linalool, terpineol, borneol
Precautions
Galbanum Essential Oil is non-toxic and non-irritant and can be used by most people